[Update: 15 December, 2008 10:15 AM]
There was some problem with the download link of the Hindi Translated version of this strip. It has been corrected now. You can download it and enjoy the story in Hindi also. Sorry for the trouble.

Too much of talking about the sub-standard level of post Falkian era stories has already taken place. Here I am presenting another of Graham Nolan Phantom Sunday strip (#S160) The Viking Fortress Mystery.
Did you know, Guran is actually a science graduate from one of the finest universities of the world with state of the art equipments and apparatus. Did you ever imagined Phantom is actually dependent on Guran when it comes to take advice on scientific matters, and to supplement it all, Mr. Guran is actually capable of making a mockery of Phantom's lack of knowledge and understandings on few puzzling mysteries. What an absurd stuff.
Though the story has its fine points also but too few and too far apart to fully bind the reader. The graceful and courageous course of action adopted by the Ghost Who Walks with a cool head in the hour of life threatening underwater crisis is definitely inspiring and interesting. The essential idea of the virus attack establishing the ancestry of Phantom is also interesting.
But the high point for me in this post is that I myself have not only translated the complete strip from English into Hindi, but also filled the dialogue balloons in Hindi using Photoshop. This was a tiring effort but challenging and interesting enough to be tried.
As we have talked earlier, the level of hindi translation of Indrajal Comics was superb. On the other hand Diamond Comics was below par in this field. I have tried to retain the style of Indrajal but it is also fully realised that it is really not easy to match those standards. But practice makes a person perfect and hopefully, I'll be doing better next time, if again any.
So, enjoy this one now. Both Hindi and English versions link have been provided. I have improved and also compressed the English version also. So this file only occupies 4.5 MB on your hard-disk while the pages are more bright and colourful.
Phantom Sunday Strip #S160
The Viking Fortress Mystery
Writer: Tony De Paul Illustrator: Graham Nolan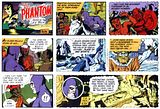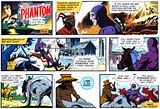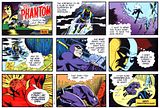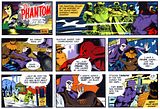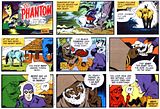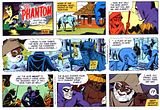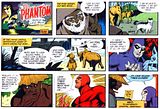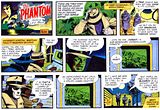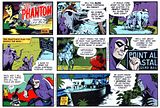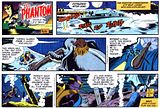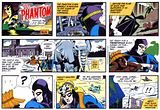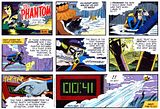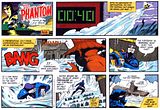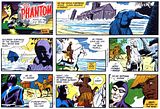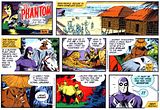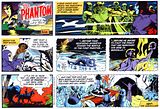 (27 pages, 1024 px wide, 4.4 MB)
.
Or
.
(Translated and Lettered in panels by The Phantom Head)
(27 pages, 1024 px wide, 4.5 MB)